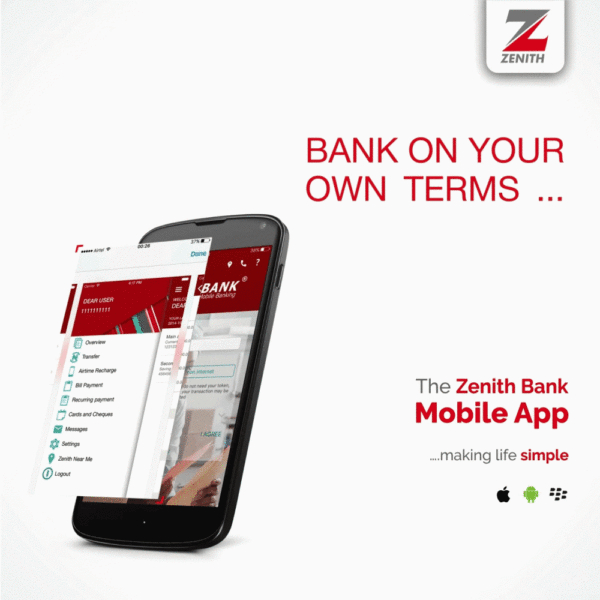 Imagine being able to move money between banks while relaxing by the pool, or paying bills from the gym, or requesting a new cheque book from your kitchen…
Transform your smartphone into a powerful banking tool with Zenith Bank's Mobile App, a sleek and highly functional app which offers access to all your Zenith Bank accounts such as Savings, Current, Domiciliary and Fixed Deposit accounts
With the mobile app you can carry out almost all transactions you would have needed to visit a branch for including the following:
Account Balance Enquiry: View all your accounts (Current, Savings, Fixed Deposit, Domiciliary and Card accounts).
Money Transfers: You can transfer funds with your mobile phone from wherever you are to any bank account in Nigeria.
Bills payments: Making bills payments is a breeze as the mobile app's intuitive interface makes the process seamless. Utility bills, cable tv and internet subscriptions are among the many bills you can pay with the Zenith Bank mobile app.
Cheques: The Cheques Menu on the app enables you exercise control over your cheques. You can pre-confirm or stop payment of cheques from your mobile phone. And when your chequebook is running thin you can easily request another via your mobile app.
Cards: In that awkward moment when you discover your card is missing, don't panic, just fire up the app and you can immediately deactivate your lost, stolen or damaged card. And if it turns out that you merely forgot where you left it, you can reactivate it with a few clicks on your app.
Manage your account: The mobile app is a command centre of sorts from where you can manage the settings of your banking. Some of these settings include:
Change Password
Change Mobile PIN
Change Authentication methods
Add and delete beneficiaries
Schedule Recurring Payments/Standing Order: Never miss another subscription payment for cable tv or your internet subscription. Just schedule a recurring payment and forget about it. The app never forgets and will pay your subscriptions on auto-pilot.
Airtime Purchase: Top up your phone and those of your family and friends from your mobile app. With airtime from all networks available and daily purchase limit of N50,000, you will never run out of airtime again.
Pay for flights and make hotel bookings: Business trip, family vacation or cosy getaway, you can book hotels worldwide and pay for your flights from your mobile phone. Just launch the app and start making amazing memories.
Locate Zenith Bank branches and ATMs: If you ever need to quickly locate a Zenith Bank branch or ATM, the mobile app comes in very handy as it can direct you to the nearest branch or ATM. It can also provide you with addresses of all our 350 branches nationwide.