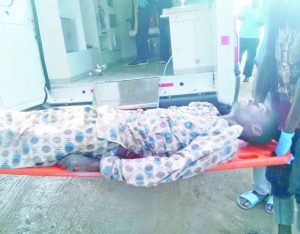 A middle aged man was rescued from drowning on Monday after he jumped into the river from the Mile 2 Bridge in Amuwo Odofin Local Government Area of Lagos State,
Daily Sun
reports.
An eyewitness,
Andy Odiaka
who narrated the incident to Daily Sun said that the victim, before trying to take his own life, said he was tired of life because he has been suffering and cannot even feed.
I was there on the bridge where the man was also standing. He was speaking to himself. He said he had no transport fare to move from one place to another. He said his suffering was too much that he could hardly feed.

I also heard him saying life was meaningless to him. He mentioned "Buhari" many times, and the next thing I saw, the man jumped from the bridge into the water.

He is an Igbo man because he was speaking the language. I thought he was joking when he said he was tired of everything around him.

If not for a speedboat that was passing, he would have died. The boat stopped and the passengers dragged him to the riverbank and they continued their journey.

Thereafter, nobody was ready to assist him. People simply looked at him, expressed sympathy and continued their journey. I have to call an emergency number.
Odiaka said he called the Lagos State Emergency number – 112 – which facilitated the arrival of the
Lagos State Ambulance Service (LASAMBUS).
He said that before the arrival of the ambulance sympathisers searched the pockets of the victim for any means of identification, but only found the sum of N90 on him.